four corners
Set in 1995, Yokohama, as two unlikely delinquents pair up to solve the mystery of why gangs in the city are being brutally disbanded.
Hi all! I wanted to make a quick announcement that I was hoping to FINALLY (I've been thinking about this for about two years) put together a holiday giveaway!!! I'm still in the process of figuring out the tiers of gifts to give out and how many, but I also wanted to incorporate extra raffle tickets to those who've ever tipped on tapas sometime in the past / or if you follow me on social media. Of course these are all ideas at this point but I do really wanna make this a thing, I just have to make a proper announcement for it.

Either way, thank you all for reading Four Corners and supporting, I hope you continue to read it in the future! Thank you, and I'll be back with the giveaway information/prize tiers sometime this December!
posted by baramasala @ November 27th, 2018, 3:17 pm 0 comments
Hi all!

As some of you fellow creators may know, sadly, project wonderful ended this year, and it looks like smackjeeves is the only place for paid webcomic advertising, but in terms of free advertising, it's a little tricky now. Because of this, I was hoping to bring banner link backs to Four Corners. I'm going to be putting the banners on the front page (above the news) but feel free to put my banners anywhere on your site.

Sizes I'd prefer are smaller ones, that way I can fit them all on the front page. (So 100 x 30, 117 x 30, 234 x 60, but perhaps a few 468 x 60 since I still might be able to fit a few in.) Also, I'm open to link to other creative projects too, not just webcomics, so just hit me up if you're interested! (And of course hmu if you add a banner, that way I can do the same.)

So yeah, let's bring link backs back!!! It'll be fun!! And plus we'll be strengthening the community and hopefully start the linkback trend again!!! ??


100 x 30

117 x 30

234 x 60

300 x 124

468 x 60
posted by baramasala @ November 5th, 2018, 9:07 am 0 comments
Hey guys! I wanted to let you all know that you can buy the full chapter 6 right now! Phew, took me a really long time (like 7 months or so haha) but it's available if you want to read ahead !
https://boniae.itch.io/four-corners-chapter-6


posted by baramasala @ April 29th, 2018, 10:18 pm 0 comments
Hi everyone!!!

I've neglected to make a news post about this, but Four Corners Book 1 is still up for grabs on my store!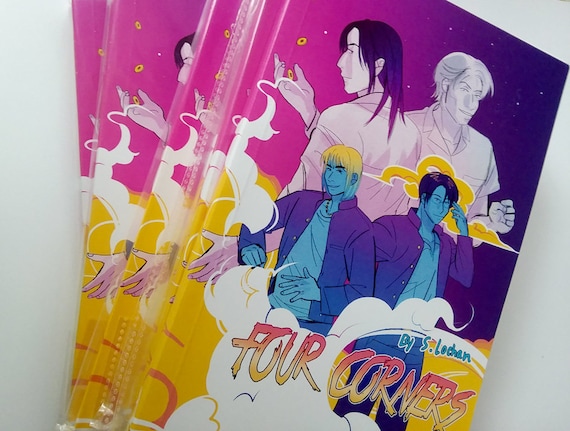 Thanks!
posted by baramasala @ January 26th, 2018, 10:06 am 1 comments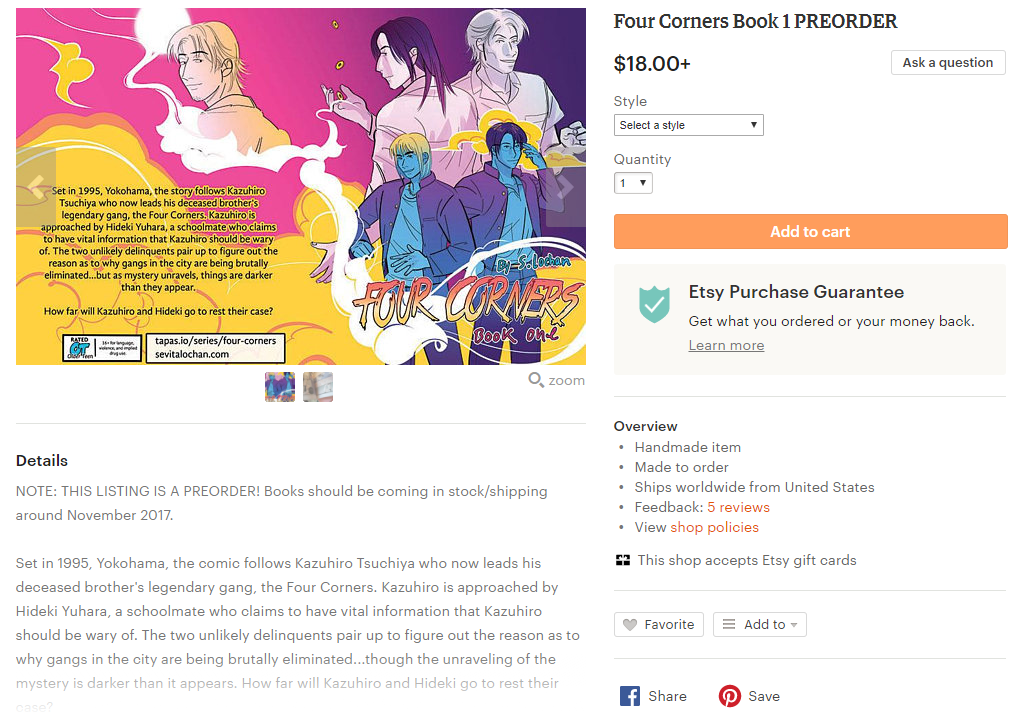 Due to a few people being interested, I've finally listed the preorder for book one!
As promised, it's discounted and will also be able to be shipped worldwide. Thanks!
posted by baramasala @ October 14th, 2017, 3:03 pm 0 comments
Hi everyone! I'm really happy to announce that I got Four Corners (ch 1-4) edited and now all that's left to do is to make the changes and print the books!! The cover will look like this (unless I decide to change some wording, but this is the final picture):




Exciting stuff!!! Right now I'm only planning on printing 50 copies, and with all the costs and labor (since I'm making them myself) the books will be priced at $20 even, definitely coming out for sale/delivery in November. I was going to announce the listing to anyone interested when I finished, but since I am going to a local convention (Genghis Con @ Cleveland, Ohio) in November, and also have some friends/family members who might try to buy it, I can't guarantee that the books will be in stock for too long. So if enough people are interested (at least five?) I can be willing to make a preorder listing on etsy, a couple dollars off ($17-18) for those who are interested in preordering. That way you can be sure you get your copy of the book and it will ship out around late October or November when they're complete. If you're interested you can comment or shoot me a PM, email, etc.

For those who would rather just help me get the book printed, you can always donate or pledge even just a dollar on patreon! (The tapastic tips can also help too, if you have tapastic coins) Trust me, the patreon money HELPS! I've saved up all the patreon money I've gathered since I've launched it just to go towards printing, and it's definitely helping things out.

And for anyone else reading who doesn't plan on getting the book, though, thank you from the bottom of my heart for reading my webcomic. Like, seriously! I see the view count, readership, comments from people from all walks of life, and it always lifts me up to know that you have at least enjoyed what I've made. You all mean a lot to me, so thank you! :-)
posted by baramasala @ September 22nd, 2017, 11:28 am 0 comments
Sorry guys, there won't be an update today! I don't believe I've mentioned it before (although my patrons might be aware) I'm currently working on redoing the 1st chapter of the series so I can prepare the comic for printing! The first chapter wasn't made in a proper format for it to be printed, so once I get that done, it will fit in with the rest of the comic. I'm really excited for that, but I'm hoping to work as hard as I can drawing that now while I have the time. So just an fyi updates might be sporadic this month!

Also to anyone interested, you can now download the comic's entire archive for easier/offline reading. Right now it's just about ~70 mb: fourcorners.smackjeeves.com/download

Thanks everyone!
posted by baramasala @ May 7th, 2017, 11:24 am 0 comments
(This is for all those who read the comic via their smackjeeves accounts, so if you just read from the website, don't pay any mind this news post! :'D)

So recently I tried to move the extras section to the bottom of the comic archive, but it turns out that smackjeeves considers the last chapter as a part of the latest pages in the archive, and not the most recent pages uploaded. For those that might have missed it, the comic updated today! Everything should be in order now.
posted by baramasala @ April 2nd, 2017, 6:26 pm 0 comments